Tamarack RV Park
Open year round, Tamarack RV Park is nestled in the tall pines within the beautiful city of Coeur d'Alene. It has the natural, woodsy feel of forest camping in the shade of the tall ponderosa pines, combined with the convenience of nearby shopping, dining, and entertainment. In addition to having ample space for your RV, Tamarack RV Park also features four cozy vacation rentals for your convenience. Dan and Teresa Reich, owners at Tamarack RV Park, were interested in upgrading their old website to a new and more modern one that would enhance the user's experience. While overhauling the older design, we had the opportunity to work with Jenny Reich, their daughter who also happens to be an incredible artist to create a new logo that will be streamlined in the next year.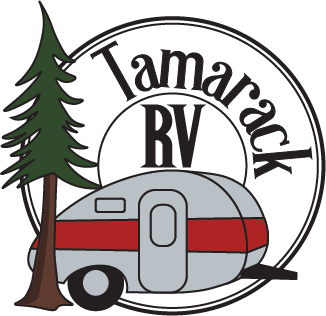 Logo Design
This logo design experience was a little different from our usual because we had the opportunity to work with Jenny Reich, the client's daughter who just so happened to be a phenomenal artist! We got to do a little tutoring on formats and in return and had a great designer to collaborate with! The outcome was a nostalgic retro logo that featured the ponderosa pines they are nestled beneath at the park and a throwback to the old days of road tripping!
Website Design
The dynamic duo that owns Tamarack RV Park wanted to move into this era's minimalist design and simple functionality with this website overhaul so naturally, we turned to Wordpress! Utilizing a one page style for the majority of information, we delivered a woodsy feeling website that matched their "RV Park nestled under Ponderosa Pines" theme perfectly! The site features a booking portal that works flawlessly with their own point-of-sale software and allows visitors to not only book but find a variety of information about the park's rules and cancellation policies. We love how the project turned out and if you're an adventurer who finds yourself in Coeur d' Alene without a place to stay, we'd highly recommend their spacious RV sites and adorable cabins for the makings of a great weekend!